You have thought about it, contemplated it and now you are ready to learn how to be a professional lash artist. We are happy for you, truly we are.
We offer New Zealand's best lash course. We will train you in every aspect of this business.
What you should realize it Lashing is not just about putting on Lashes for girls, its about creating happiness, comfort, glamour and giving your customer more confidence. Lashing is a business of opportunity, creativity, collaboration and beauty.
We are happy to announce that we are offering our Premium Lash Service training to anyone willing to learn. The lashing world can be hard, competitive and frustrating. Our course is designed to give you the confidence of creating absolutely amazing lashes for every single customer.
COURSES
BASIC COURSE – CLASSIC TRAINING: $997
5 days (1 week) theory and practice
ADVANCED COURSE – CLASSIC, HYBRID AND VOLUME (PREMADE FANS): $1497
5 days (1 week) theory and practice
MODEL
We prepare models or you can bring yours. Depends on your speed, averagely you have two models/day (on and off supervising)
LASH KIT
A quality Lash Glue bottle
A tweezers set
A mannequin head
Classic lash trays
Premade fans trays (for the Advanced course)
Lash removal cream,
A lash shampoo
Gel Pads
Lash tape.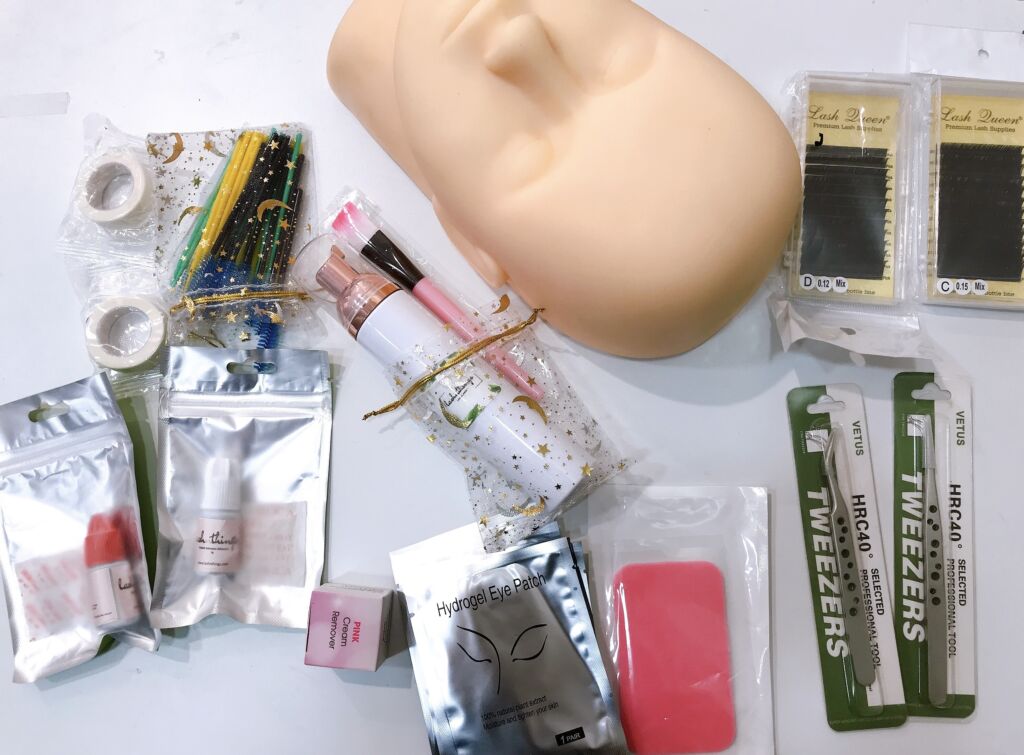 WHAT MAKES US DIFFERENT
We provide one week training, not two days like other companies.
Knowledge and skills that we learned from years of doing lashes. All our mistakes and our successes will be shared.
Free mentorship via email, message or call for advice, tips and tricks if you ever get stuck and need some help after training
THE WORKSHOP OUTLINE
THEORY
Health & Safety – hygiene standards in the industry
Natural eyelash growth cycle
Client safety: Reaction and allergies (PATCH TEST)
Different types of classic eyelash thickness, curls
Consultation+Aftercare
Equipment
Marketing your business
PRACTICE
Cleansing
Preparing
Application
Safety removal procedure
Infills procedure
Practicing on mannequin
Practicing on real model
TIME
Workshop first day between 10am – 5pm one day. This includes theory 2 hours. mannequin head practice 2 hours and model 2 hours.
After that, students can come for two model practice everyday for the week
We have team supporting and editing your work after every training.
WHAT TO BRING
A notebook and pen
And yourself obviously with an open mind and positivity.
PRICE
BASIC COURSE – CLASSIC TRAINING: $997
ADVANCED COURSE – CLASSIC, HYBRID AND VOLUME (PREMADE FANS): $1497 👍 *recommended*
Afterpay and Laybuy are available for payment.
Classes are open weekly. Best to book one week in advance (Deposit payment needed – $500)
After the course, you will recieve our company Certificate
A certificate is not equivalent to a diploma or degree but it is an official document attesting to your achievement. Earning a lash certification is the important first step to becoming a lash artist.